Mechanical Engineering Department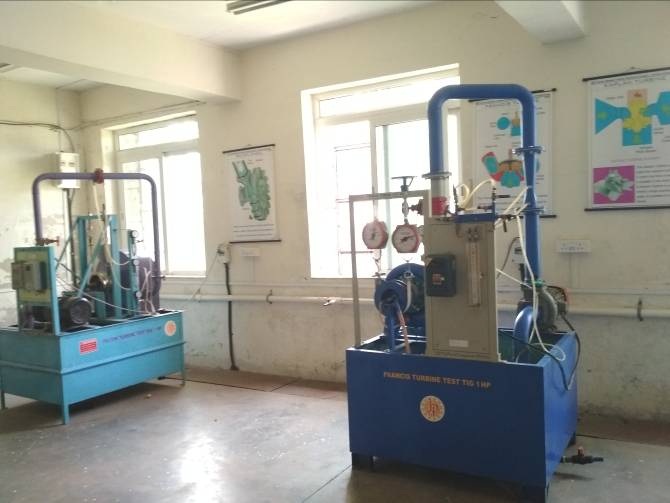 About Department
The Department of Mechanical Engineering was established in 2012. The Department has been recognized as a blend of budding researchers with academic. The department offers two programs namely, B.E.(Mechanical Engineering) and Diploma in Mechanical Engineering. The Department of Mechanical Engineering focuses on building top-notch Mechanical Engineers in India. At present, the department has Ph.D scholars, working on Solar PV technology, Nano materials and alternative fuels etc. The students of the department will undergo internship and project work at in various reputed organizations such as Thermax, Mazgoan Dock, Tata motors etc. Students are encouraged to participate in various national and international competitions regularly. The department possesses the state of the art research facilities to support our academic programs and research. Faculty members have excellent academic credentials and are highly regarded. They have publications at national and international levels and also have patents. Several faculty members serve on the as reviewers for various national and international journals, review technical articles for journals on a regular basis. The students in the department have a total of 80+ publications in International Journals.

Prof. Parag V. Bute
Head of Department
Vision
To embed students with technical knowledge through value based quality education through continual improvement based on industrial requirement.
Mission
To Foster quality based engineering in Mechanical Engineering education and to equip the students for professional career or higher education.
To promote knowledge generation and quality education through co-curricular and extracurricular activities to develop leadership qualities in students.
To encourage the fortitude of national progress.
To boost employability skills and supply to human resource growth.
Short Term Objectives
To maintain a superior standard of mechanical engineering education through outrageous teaching, innovative curricula and research training that reflects the changing needs of the industry.
To strengthen and expand alliance with industry and boost knowledge generation for the growth of the institute.
Long Term Objectives
Increase interaction and collaboration with industry.
Improve the Mechanical Engineering Department's resources for providing state-of-art research.
Our Faculty Members
| Sr. No. | Name of Faculty | Designation |
| --- | --- | --- |
| 1 | | Professor & Principal |
| 2 | | Assistant Professor & Head |
| 3 | | Assistant Professor |
| 4 | | Assistant Professor |
| 5 | | Assistant Professor |
| 6 | | Assistant Professor |
| 7 | | Assistant Professor |
| 8 | | Assistant Professor |
| 9 | Prof. Balaji Nagrao Sontakke | Assistant Professor |
| 10 | Mr. Ashish Kamalapurkar | Adjunct Faculty |
| 11 | Mr. Ashok Chavan | Adjunct Faculty |
| 12 | Mr. Milind Phatak | Adjunct Faculty |
| 13 | Mr. Pankaj Zope | Adjunct Faculty |
| 14 | Mr. Satish Balbudhe | Adjunct Faculty |
| 15 | Mr. Shrikant Ghadyalji | Adjunct Faculty |
| 16 | Mr. Umesh Kulkarni | Adjunct Faculty |
| 17 | Mr. Vinit Raut | Adjunct Faculty |
Industry Sponsored Projects
Sr. No.
Name of Project
Name of Students
Name of Company/ Resource Person
Contact No of Company/ Resource Person/ Guide

1

Impeltion of wm in Am

Gholap Ajinkya Arun

Impeltion of wm in Am

CNH Industries (India) Pvt Ltd

Mishra Punit Bholanath

2

Development od Dual end drill machine

Maske Sanket Ravindra

Development od Dual end drill machine

Exponetial Engineering Pvt Ltd Bhosari

Nikhil Jagadish Bashetty

Pimparkar Shubham Sanjay

Barse Anish Suhas

3

Productivity enhancement by clean manufacturing

Bacche Kamesh Suresh

Productivity enhancement by clean manufacturing

Conwood Engineering Work

Bhangare Akshay Baban

Suryawanshi Rushikesh

Satpute Saurabh Sanjay

4

Time study and optimization of elevator component manufacturing machine

Khadse Devarsh Raghunath

Time study and optimization of elevator component manufacturing machine

EMESA India Elevator Components Pvt Ltd Chakan

Patil Prathamesh Sushant

Surve Sangram Gopal

5

Oil and coolant dispensing unit

Dere Shubham Shekhar

Oil and coolant dispensing unit

Greves Cotton Limited Chinchwad

Nair Sujith Unnikrishnan

6

Design & Fabrication of small Thread attachment

Aniket Nivrutti Karande

Design & Fabrication of small Thread attachment

Sumangal Industries Bhosari

Kapase Kanhaiya Jayant

Kulkarni Shreyas Dilip

7

Design and development of Dowel pin press machine

More Praful Rajendra

Design and development of Dowel pin press machine

JEMS Machines And System Bhosari

Nandvadekar Ajinkya Shankarrao

Patki Vaibhav Bhushan

8

Incresing Lifting Capacity of Hydraulic Manipular

Bhusari Tejas Pandharinath

Incresing Lifting Capacity of Hydraulic Manipular

Mahindra Steel Pvt Ltd Khopoli

Shinde Aakash Gangaram

Khandagale Shashank Balkrishna

More Rohit Kailas

9

Reduction in carbon footprint by saving power and fuel

Hajare Shubham Mahadev

Reduction in carbon footprint by saving power and fuel

Alta Pvt Ltd

Jadhav Akshay Abasaheb

Mahangare Akshay Dattatray

Suryawanshi Sanket Sukhedev

10

Design and development of organic fertilizer machine using food waste

Mane Suraj Chandrashekhar

Design and development of organic fertilizer machine using food waste

J S Engineers & Fabrication Bhosari

Shinde Monika Suresh

Vande Sufiyan Ali

Walunj Sandeep Subhash

11

Design and manufacturing of hydralic decoiler

Mane Prasad Sudhir

Design and manufacturing of hydralic decoiler

Vasant Engineers Moshi pune

Das Shubhojit Dhanesh

Kudale Mayur Anil

Lokhande Pratik Deepak

12

Eye sensor Braking with pneumatic bumper system

Kodge Omkar Shivkumar

Eye sensor Braking with pneumatic bumper system

Kaveri Enterprise Chinchwad

Patil Sanket Vitthal

Kiran Suresh More

13

Development of Heat Exchanger for Cold Bending Machine

Deshmukh Rahul Sanjay

Development of Heat Exchanger for Cold Bending Machine

Thermax Ltd Chinchwad

Bhanusghare Akash Dattatray

Gaikwad Akash Sunil

Mayank Solanki
Student Initiatives
Academic Year
Name of Event
No. of Students
Location
Date
Rank Achieved

2018-19

SAENIS Efficycle 2018

12

Lovely Professional University, Phagwara, Punjab

09th to 19th Feb. 2018

----

IKC Go-Kart 2019

20

Mohite racing Academy, Kolhapur

11th-15 th Jan. 2019

Virtual Round Rank 23

2017-18

BAJA Virtual 2017

24

Chitkara University, Patiala

July 14th to 15th, 2017

213

TIFAN Virtual 2018

20

PCCOER, Ravet, Pune

5th Nov. 2017

---

IKC Go-Kart 2018

21

Mohite racing Academy, Kolhapur

11 th -15 th Jan. 2018

45

AIRC Go-Kart 2018

20

PCNDTA Traffic Park,

17th to 20th Feb. 2018

17

Bhosari, Pune

2016-17

AIRC Go-Kart 2017

20

Dhole Patil college of Engineering, Pune

16th to 19th March 2017

12

2015-16

BAJA Virtual 2016

25

Christ University, Kengeri Campus, Bengaluru

June 24th to 25th, 2016

323
Industrial Advisory Board
Sr. No
Name of Person
Designation
Name of the Company
Designation in IAB

1

Shri Shripad Kuvelkar

Chairman

SRTTC, FoE

Chairman

2

Dr. Yogesh Aghav

Associate Vice President

Kirloskar Oil Engines

Chairman, IAB

3

Prof. (Dr.) J.B.Sankpal

Principal SRTTC

SRTTC

Member Secretary

4

Mr. Shailesh Bhandari

MD

B U Bhandari Auto Pvt Ltd

Member

5

Mr. Tanmay Wakankar

CEO

Make and Mark Media Pvt Ltd

Member

6

Mrs. Deepa Zanpure

Associate Professor

AIT

Member

7

Mr. Rajesh Belgaonkar

Partner

Pune Air Products

Member

8

Mr. Abhijit Athawale

AGM

ERC (Engines)

Tata Motors

Member

9

Mrs. Mohni Karnik

Sr Executive (Quality)

Benteler Automotive India Ltd

Member

10

Prof. Parag V. Bute

HoD (Mech)

SRTTC

IAB Coordinator

11

Prof Anup A. Kawathekar

TPO & IIIC Coordinator

SRTTC

Member

12

Prof. Shital B. Patil

HoD (DESH)

SRTTC

Invitee

13

Prof. Anjali M. Dalvi

HoD (Computer and E&TC)

SRTTC

Invitee

14

Prof. Nitinkumar N. Jadhav

HoD (Civil)

SRTTC

Invitee
| Academic Year | No of Industrial Projects Undertaken | Name of Companies | No of Students benefitted |
| --- | --- | --- | --- |
| 2017-18 | 13 | Racold, Mahindra Saniyo, TATA motors, Oppulent technologies, AWATE Auto, Esteem Press etc. | 39 |
| 2016-17 | 13 | Sandvik, Force Motors, Inovic India. Pvt Ltd., JCB India Etc | 42 |
| 2015-16 | 18 | Thermax Ltd., Aakar Foundry, Bharat Forge, Mazgaon Dock, Hyundai Kinetic, TATA Motors, Kimberly -Clark Etc | 49 |
Research Publications
Sr. No.

Name of Faculty

National/ International

Name of Journal/ Conference

Title of Paper

Name of Organizing /Conference

Year

1

Prof. (Dr.) J. B. Sankpal

International

IEEE ICPEICES 2016

Study of Output Parameters of Horizontal Axis Wind Turbines using Experimental Test Setup

IEEE ICPEICES

2016

2

Prof. (Dr.) J. B. Sankpal

International

IEEE ICPEICES 2016

Laboratory setup for the study of the effect of Vertical shear on Horizontal Axis wind turbine

IEEE ICPEICES

2016

3

Prof. (Dr.) J. B. Sankpal

International

ICCPCT – 2017

Voltage Flicker Noise in Wind Turbine Output

IEEE International Conference on Circuit, Power and Computing Technologies

2017

4

Prof. (Dr.) J. B. Sankpal

International

ICCPCT – 2017

Application of Wind Rose For Wind Turbine Installation

IEEE International Conference on Circuit, Power and Computing Technologies (ICCPCT – 2017)

2017

6

Prof. (Dr.) J. B. Sankpal

International

ICCPCT – 2017

Wind Turbine Blade Materials for Research in Wind Energy

IEEE International Conference on Circuit, Power and Computing Technologies (ICCPCT – 2017)

2017

8

Prof. (Dr.) J. B. Sankpal

International

ICCPCT – 2017

Impact of Vertical Wind shear on Wind Turbine Performance

IEEE International Conference on Circuit, Power and Computing Technologies (ICCPCT – 2017)

2017

10

Prof. (Dr.) J. B. Sankpal

International

ICCPCT – 2017

Research Test Set up for Wind Turbine Models

IEEE International Conference on Circuit, Power and Computing Technologies (ICCPCT – 2017)

2017

12

Prof. (Dr.) J. B. Sankpal

International

ICCPCT – 2017

Use of Wind rose for Wind Energy Generation

IEEE International Conference on Circuit, Power and Computing Technologies (ICCPCT – 2017)

2017

14

Prof. (Dr.) J. B. Sankpal

International

ICCPCT – 2017

Curve Models of Voltage Flicker in a Wind Turbine Considering Vertical Wind Shear

IEEE International Conference on Circuit, Power and Computing Technologies (ICCPCT – 2017)

2017

16

Prof. (Dr.) J. B. Sankpal

International

ICCPCT – 2017

Sixth order model of wind turbine voltage flicker considering vertical wind shear

IEEE International Conference on Circuit, Power and Computing Technologies (ICCPCT – 2017)

2017

18

Prof. (Dr.) J. B. Sankpal

International

ICECDS 2017

Adjustable Concentric Towers to Vary Tower Shadow Effect on Flicker in Wind Turbine

International Conference on Energy, Communication, Data Analytics and Soft Computing (ICECDS 2017).

2017

19

Prof. (Dr.) J. B. Sankpal

International

ICECDS 2017

Fabrication of Wind Turbine from Sheep Wool

International Conference on Energy, Communication, Data Analytics and Soft Computing (ICECDS 2017).

2017

20

Prof. (Dr.) J. B. Sankpal

International

ICECDS 2017

Ice Elimination from Wind Turbine Blade using Induction Heating

International Conference on Energy, Communication, Data Analytics and Soft Computing (ICECDS 2017).

2017

21

Prof. (Dr.) J. B. Sankpal

International

ICECDS 2017

Ice Extraction from Wind Turbine using Flow of Hot Air Through Blade

International Conference on Energy, Communication, Data Analytics and Soft Computing (ICECDS 2017).

2017

22

Prof. (Dr.) J. B. Sankpal

International

ICECDS 2017

Ice Melting from Wind Turbine Blades using Resistive Heating

International Conference on Energy, Communication, Data Analytics and Soft Computing (ICECDS 2017).

2017

23

Prof. (Dr.) J. B. Sankpal

International

ICECDS 2017

Ice Removal from Wind Turbine using Hot Water Flow through Blade

International Conference on Energy, Communication, Data Analytics and Soft Computing (ICECDS 2017).

2017

24

Prof. (Dr.) J. B. Sankpal

International

ICECDS 2017

Laboratory Model of Surface Roughness Test Wind Turbine Voltage Flicker

International Conference on Energy, Communication, Data Analytics and Soft Computing (ICECDS 2017).

2017

25

Prof. (Dr.) J. B. Sankpal

International

ICECDS 2017

Laboratory Test Set up to Study Wind Turbine Tower Models

International Conference on Energy, Communication, Data Analytics and Soft Computing (ICECDS 2017).

2017

26

Prof. (Dr.) J. B. Sankpal

International

ICECDS 2017

Testing of Wind Generator Models using Motor Drive

International Conference on Energy, Communication, Data Analytics and Soft Computing (ICECDS 2017).

2017

27

Prof. (Dr.) J. B. Sankpal

International

ICECDS 2017

Towers Fixing Mechanism to Create Wake Effect in a Laboratory Wind Farm Model

International Conference on Energy, Communication, Data Analytics and Soft Computing (ICECDS 2017).

2017

28

Prof. (Dr.) J. B. Sankpal

International

ICECDS 2017

Tree Mounted Wind Turbine

International Conference on Energy, Communication, Data Analytics and Soft Computing (ICECDS 2017).

2017

29

Prof. (Dr.) J. B. Sankpal

International

ICECDS 2017

Use of Bamboo for Constructing Ecofriendly Wind Turbine

International Conference on Energy, Communication, Data Analytics and Soft Computing (ICECDS 2017).

2017

30

Prof. (Dr.) J. B. Sankpal

International

ICECDS 2017

Use of Bicycle and Gear Box for Testing of Wind Generator Model

International Conference on Energy, Communication, Data Analytics and Soft Computing (ICECDS 2017).

2017

31

Prof. (Dr.) J. B. Sankpal

International

ICECDS 2017

Wind Turbine Blade Fixing Mechanism

International Conference on Energy, Communication, Data Analytics and Soft Computing (ICECDS 2017).

2017

32

Prof. (Dr.) J. B. Sankpal

International

ICECDS 2017

Wind Turbine Model Testing using Point Source of Air to Create Wind Shear

International Conference on Energy, Communication, Data Analytics and Soft Computing (ICECDS 2017).

2017

33

Prof. (Dr.) J. B. Sankpal

International

ICECDS 2017

Wind Turbine Model Testing using all Slide Fans Arrangement to Create Turbulence

International Conference on Energy, Communication, Data Analytics and Soft Computing (ICECDS 2017).

2017

34

Prof. (Dr.) J. B. Sankpal

International

ICECDS 2017

Wind Turbine Model Testing using Blower Fan Sliding Mechanism to Create Wind Shear

International Conference on Energy, Communication, Data Analytics and Soft Computing (ICECDS 2017).

2017

35

Prof. Srinidhi C.

International

International Journal of Ambient Energy

Performance and Emission characteristics of CI engine at Various Injection Strategies Using Biodiesel Blended Nanoparticles as Fuel

International Journal of Ambient Energy

2019

36

Prof. Satpute J B

International

Elsevier

Thermal Performance Investigation of Concentrated Solar Collector

ICMPC

2017

37

Using Novel Aluminum Absorber

38

Prof. Srinidhi C.

International

Fuel-Elsevier

Effect of NiO nanoparticles on Performance and emission characteristics at various injection timings using biodiesel-diesel blends

Fuel-Elsevier

2018

39

Prof. Srinidhi C.

International

Ceramic International-Elsevier

Lattice geometry controlled synthesis of Cu – Doped Nickel oxide Nanoparticles

Ceramic International-Elsevier

2018

40

Prof. Srinidhi C.

International

International Journal of Renewable Energy Research

A Diesel Engine Performance Investigation fueled with Nickel oxide nano fuel-methyl ester

International Journal of Renewable Energy Research

2018

41

Prof. Srinidhi C.

International Journal

International Journal of Renewable Energy Research

A Diesel Engine Performance Investigation fueled with Nickel oxide nano fuel-methyl ester,

International Journal of Renewable Energy Research

2016

42

Prof. Srinidhi C.

International Journal

International Journal of Emerging Trends in Science and Technology

A Review on Selective Catalytic Reduction for NOX Reduction

International Journal of Emerging Trends in Science and Technology

2016

43

Prof. Srinidhi C.

International Journal

JETIR

Performance Investigation Of Ci Engine Run By Biodiesel With Nanoparticles (Nio2)

JETIR

2016

44

Prof. Srinidhi C.

International Journal

IRJET

Aqua Silencer-A possible solution for reducing engine emission and IC Engine

IRJET

2016

45

Prof. Srinidhi C.

International Journal

IRJET

A Review on Exhaust Gas Recirculation on CI Engine fuelled with Biodiesel Blends

IRJET

2016

46

Prof. Srinidhi C.

International Journal

IRJET

A Review on Two Stroke Single Cylinder Compressed Air Engine

IRJET

2016

47

Prof. Srinidhi C.

International Journal

IRJET

A Review on Compression Ignition Engine fuelled with Biodiesel-nanoparticles

IRJET

2016

48

Prof. Srinidhi C.

International Journal

IRJET

Neem Oil Methyl Ester a promising source to power DI-CI Engine,

IRJET

2016

49

Prof. Srinidhi C.

International Journal

IJMEIT

Algal Biodiesel-Promising Source to Power Diesel Engines

IJMEIT

2016

50

Prof. Srinidhi C.

International Journal

IRJET

Performance And Emission Effect Of Nano fuel Additives For Biodiesel-Diesel In Diesel Engine – A Review Study

IRJET

2016

51

Prof. Y. R. Ingole

International Journal

IRJET

Aqua Silencer-A Possible Solution For Reducing Engine Emission & IC Engine

IRJET

2016

52

Prof. N.V.Dhumal

International Journal

IJESRT

Design,Development and Analysis of fluid Viscous damper for vibration reduction in hand held power machinery

IJESRT

2015

53

Prof. Srinidhi C., Dr. J.A.Hole, S.V.Channapattana, Dr Abhay Pawar, Dr. P.G.Kamble

International Journal

IJESI

Investigation On Performance and Emission Characteristics Of C.I. Engine Fuelled With Honne Oil Methyl Ester

IJESI

2014

54

Prof.Y.R.Ingole

International Journal

IJREAT

Thermal Analysis of Heat Pipe Using Taguchi Method

IJREAT

2014

55

Prof. Y. R. Ingole

International Journal

International Conference on Recent Trends in Engineering & Management ,

Analysis and Die Design in Single Stage Blanking Process for Steel Shim

International Conference on Recent Trends in Engineering & Management ,

2014

56

Prof. Y. R. Ingole

International Journal

IERJ,

"Forced Convection Heat transfer characteristics of Geometrically ordered packing of Steel balls"

IERJ,

2014

57

Prof. Y. R. Ingole

International Journal

IJSRD

Experimenal Evaluation of Heat Transfer through different shaped Packed Beds", ,

IJSRD

2014

58

Prof. Rohit R Patil

International Journal

IJSTE

Optimization of Process Parameters in Milling Operation by Taguchi's Technique using Regression Analysis

IJSTE

2014

59

Dr A.B.Auti

International Journal

LNEE series, Springer

Study on reflector material optimization of a parabolic solar concentrator

LNEE series, Springer

2014

60

Dr A. B. Auti

International Journal

Internationals Journal of Applied Engineering Research

Review of different solar water heating systems

Internationals Journal of Applied Engineering Research

2014

61

Dr A. B. Auti

International Journal

International Review of Mechanical Engineering

Thermal and Structural Analysis of Stainless Steel 304 for Thermal Fatigue Testing using ANSYS

International Review of Mechanical Engineering

2014

62

Prof. Mukesh A. Mane

International Journal

IJSR

Karanja oil as fuel as an alternative fuel for Direct Injection C.I Engine-Review

IJSR

2013

63

Dr A.B.Auti

International Journal

International Journal of Engineering and Technology

Thermal analysis of parabolic concentrator for finding optical efficiency by different methods with varying parameters

International Journal of Engineering and Technology

2013

64

Dr A.B.Auti

International Journal

International Review of Mechanical Engineering, Praise worthy prize, Publication

Theoretical, Experimental and Finite Element Analysis of heat loss for designing a parabolic concentrator

International Review of Mechanical Engineering, Praise worthy prize, Publication

2013

65

Dr A. B. Auti

International Journal

International Review of Mechanical Engineering

CFD analysis of condensor for solar desalination system

International Review of Mechanical Engineering

2013

66

Dr A. B. Auti

International Journal

Advanced Material Research

Design and manufacturing of absorber for solar desalination system

Advanced Material Research

2013

67

Dr A. B. Auti

International Journal

International Journal of Engineering and Technology

Prediction of Pressure Drop in Chilled Water Piping System Using Theoretical and CFD Analysis

International Journal of Engineering and Technology

2013

68

Dr A. B. Auti

International Journal

International Journal of Mathematics Research

Numerical Solution of Ordinary Differential Equation Using Single MATLAB Algorithm

International Journal of Mathematics Research

2012

69

Dr A. B. Auti

International Journal

American Journal of Applied Science

Solar water desalination system WITH condenser without using electricity for rural areas

American Journal of Applied Science

2012
Industrial Visits organized in A.Y. 2018-19
Sr

No

Subject

Visit Under the

head

Location & Date

No of

Beneficial

Faculties

Class : S E Mechanical

1

Thermodynamics

Industrial Visit to any

process industry which uses Boiler

Katraj Dairy, Pune. 06/07/2018

12

Prof. Y P Bhatt

2

Manufacturing

Process-I

Content Beyond

Syllabus

Parle Agro, Khopoli,

25/07/2018

12

Prof. M A Mane

3

----

Content Beyond

Syllabus

Honda Technical Centre

of Excellence,28/09/2018

03

Dr. M V Mankar

4

Theory of Machines – I

Gap identification and Content Beyond

Syllabus

Auto cluster, Science park, Chinchwad

15/02/2019

9

Prof Y R Ingole

5

Applied

Thermodynamics

Visit to Automobile

service station

Honda Technical Centre

of Excellence,15/02/2019

9

Prof Y R Ingole

Class : T E Mechanical

6

Metrology and quality control

Visit to Calibration lab

/Quality control lab / Gear manufacturing unit / Automotive

Industry /Engineering Industry.

Accurate sells and service, Hadapsar, Pune 20/09/2018

35

Prof. S S Panshetty Prof. M A Mane

7

Manufacturing Process II

Gap identification and Content Beyond

Syllabus

Asian Colour Coated Ispat Ltd, Raigad 11/02/2019

40

Prof. K M Patil Prof. N V Dhumal

8

Machine Shop – II

Report based on industrial visit to

manufacturing plant

Hari Om Udyog Chakan, 20 /03/2019

09

Prof S A Madgum

9

Manufacturing Process II

Gap identification and Content Beyond Syllabus

Indian Machine tool manufacturer association,Chinchwad,

22/02/2019

17

Prof. N V Dhumal

10

Refrigeration

and Air conditioning

Visit to cold Storage

Plant

Naigaon cold storage

Naigaon 26/02/2019

43

Prof Y R Ingole

11

Machine Shop – II

Report based on industrial visit to

manufacturing plant

Nitin Enterprises, Kamshet

18 /02/2019

03

Prof S A Madgum

12

Refrigeration and Air conditioning

Gap identification, Visit to ice

manufacturing Plant

Deepak Ice factory, Dehuroad, Pune,

27/03/2019

32

Prof Y R Ingole

Class : B E Mechanical

13

Refrigeration and Air

conditioning

Visit to cold Storage

Plant

Naigaon Chilling plant,

Naigaon 22/10/2018

30

Prof. J B Satpute

14

Hydraulics and Pneumatics

Industrial visit to study automation by means of hydraulic and pneumatic system such as LPG bottling plant, hydraulic press, Injection moulding

Parle Agro, Khopoli, 25/07/2018

70

Prof. S S Panshetty Prof. M A Mane

15

Automobile Engineering

Content Beyond Syllabus

Honda Technical Centre of Excellence, 28/09/2018

20

Dr. M V Mankar

16

Energy Engineering

Visit to Non

Conventional/Cogene ration power plant

Sant Tukaram Sakhar

Karkhana, Kasarsai, 29/03/2019

60

Prof M A Mane Prof C. Srinidhi
Guest Lectures organized in A.Y. 2018-19
Sr. No.

Name of Expert & Contact Details

Topic

Date of Conduction

No. of Beneficiaries

1

Mr. Sameer Latkar

Awareness on CAD/CAM Softwares

28/09/2018

32

2

Prof. N. H. Ambhore

Torsion and Buckling of Columns

26/09/2018

10

3

Prof. D. B. Nalawade

Centrifugal & Axial Compressor

21/09/2018

15

4

Prof. (Dr.) Dhanpal Kamble

Refrigerants & Vapour Refrigeration Systems

21/09/2018

16

5

Mr. Ganesh Lohar

Advance Surface Hardening Processes

06/09/2018

47

6

Mr. Rajesh Chavan

Personality Development

04/09/2018

59

7

Prof. (Dr.) N. K. Sane

Advances in Heat Exchangers & Cryogenics

23/08/2018

90

8

Mr. Dilip Godbole

CNC Machines-Basics & Programming

30/06/2018

10

9

Prof. N. N. Sakhare

Introduction to Arduino & Atmega 328P

25/02/2019

09

10

Prof. D. B. Nalawade

Dimensional Analysis and External flow

01/04/2019

10

11

Prof. Aniket Salve

Mechanical System Design

02/04/2019

09

12

Dr. A. D. Kale

Refrigeration and Air Conditioning

02/04/2019

11

13

Prof. D. B. Nalawade

Fluid Mechanics -Fluid flow and flow through pipes

01/04/2019

7

14

Mr. Arvind Paranjape

Power Plant and Virtual Tour of TATA Power

25/02/2019

60

15

Prof. R. P. Gaikwad

Water Treatment Plant and Say No to Plastic

25/02/2019

50

16

Mr. Abhay Wagh

Industrial Design

25/02/2019

19

17

Mrs. Swati Phawade

Simulation softwares and its industrial applications

18/02/2019

51

18

Prof.R.R.Patil

Prof.N.V.Dhumal

Prof.Y.B.Bhatt

Career Training Programme

1. AutoCAD

2.Automobiles Engineering for 10th students

13/05/2019

14/05/2019

50