Civil Engineering Department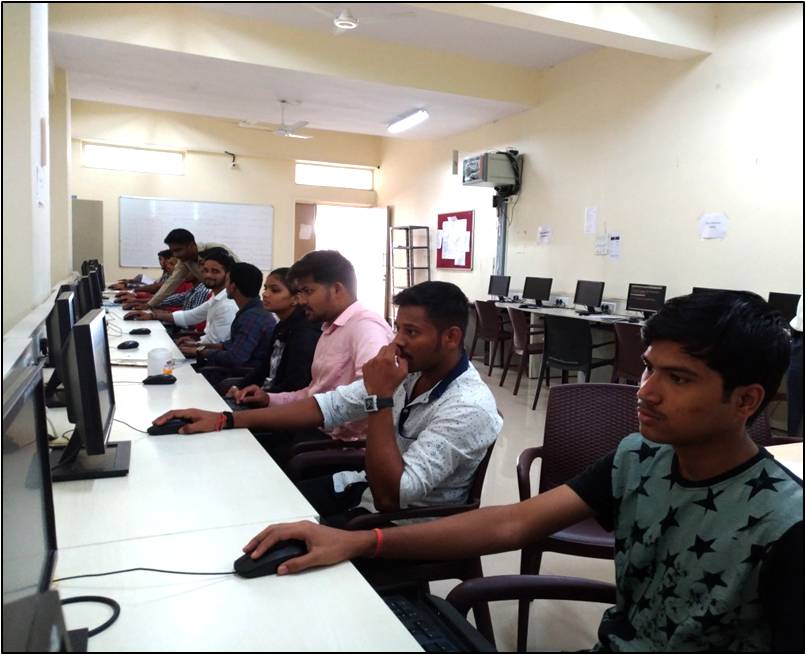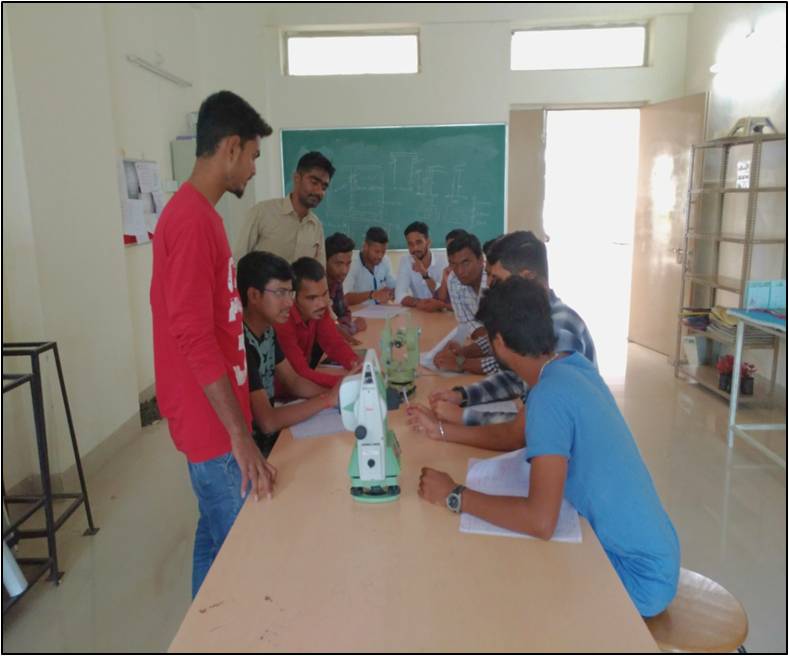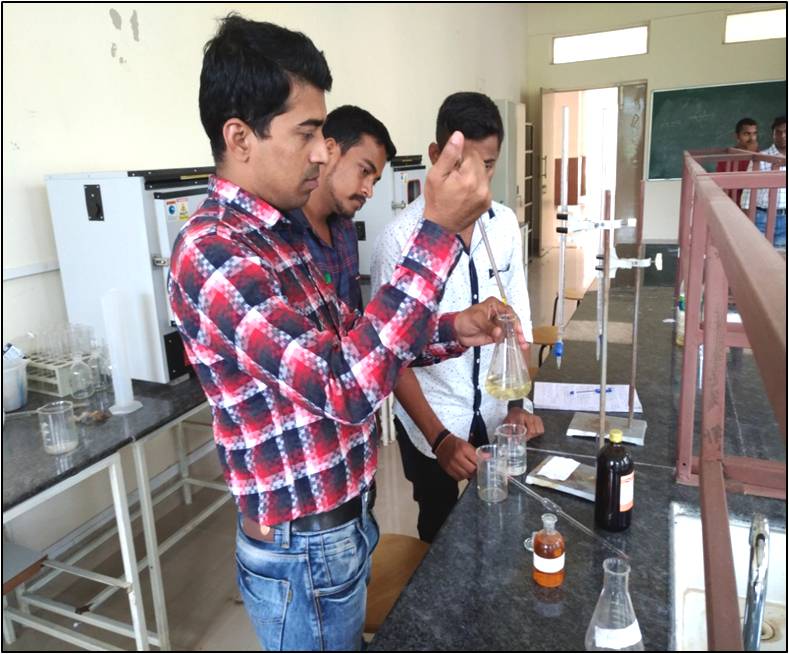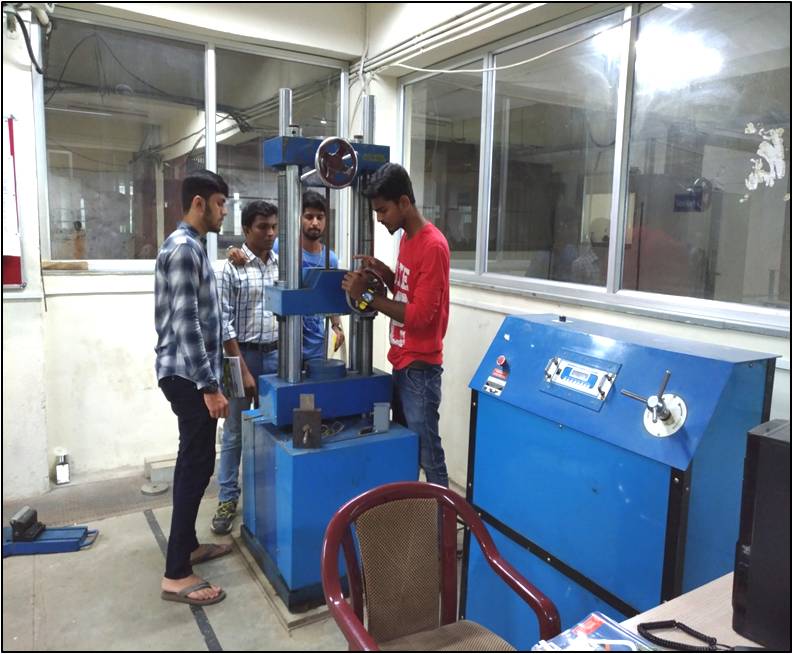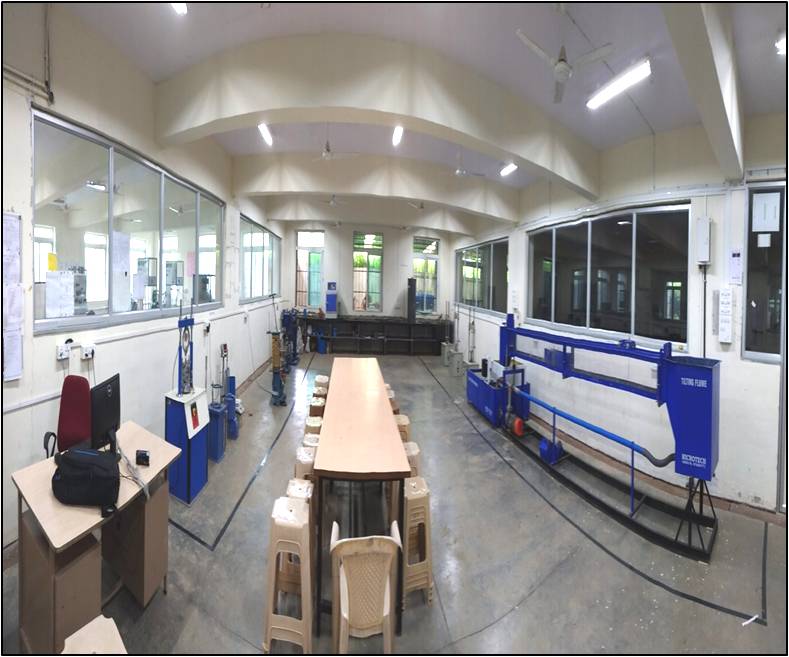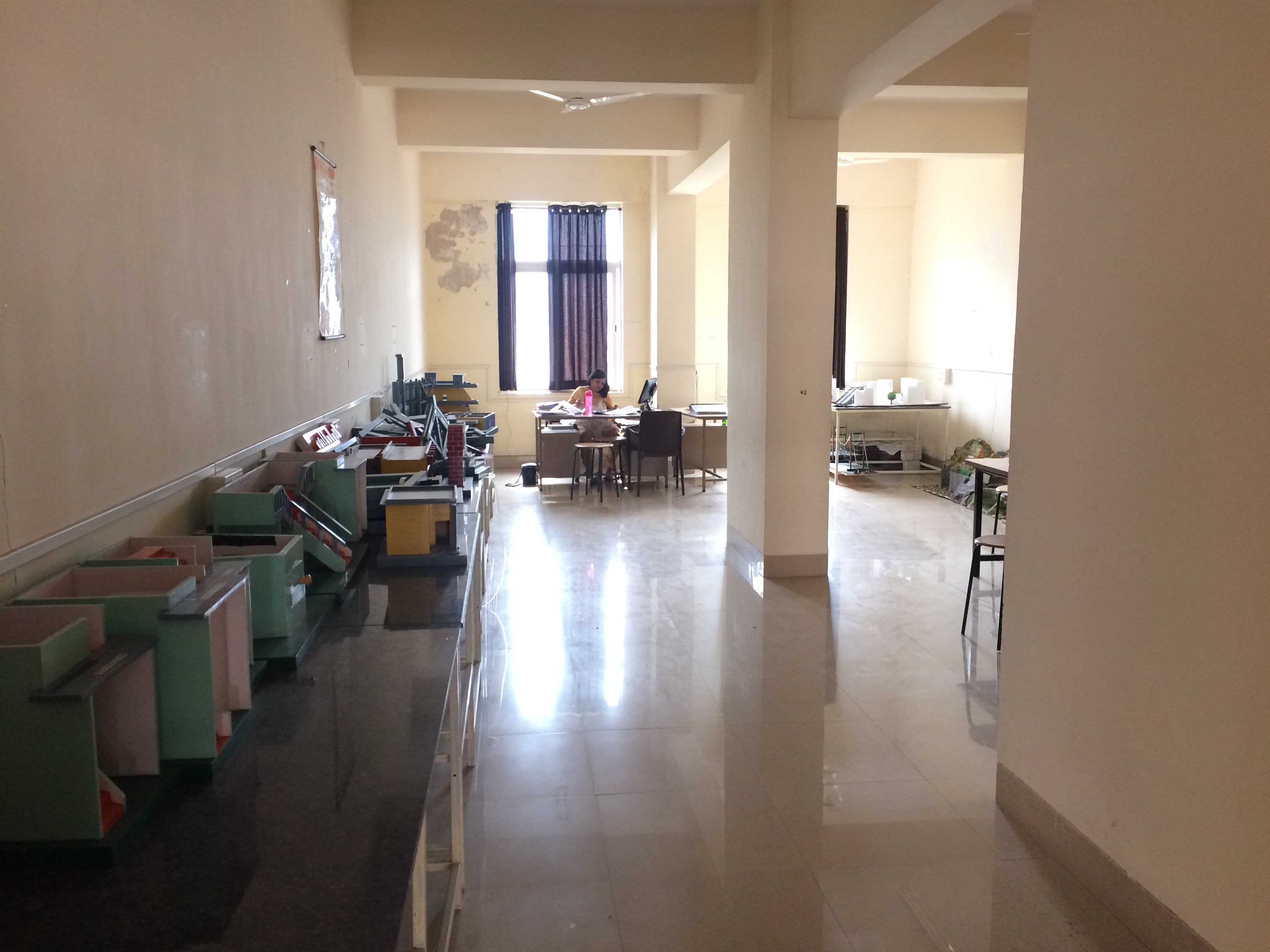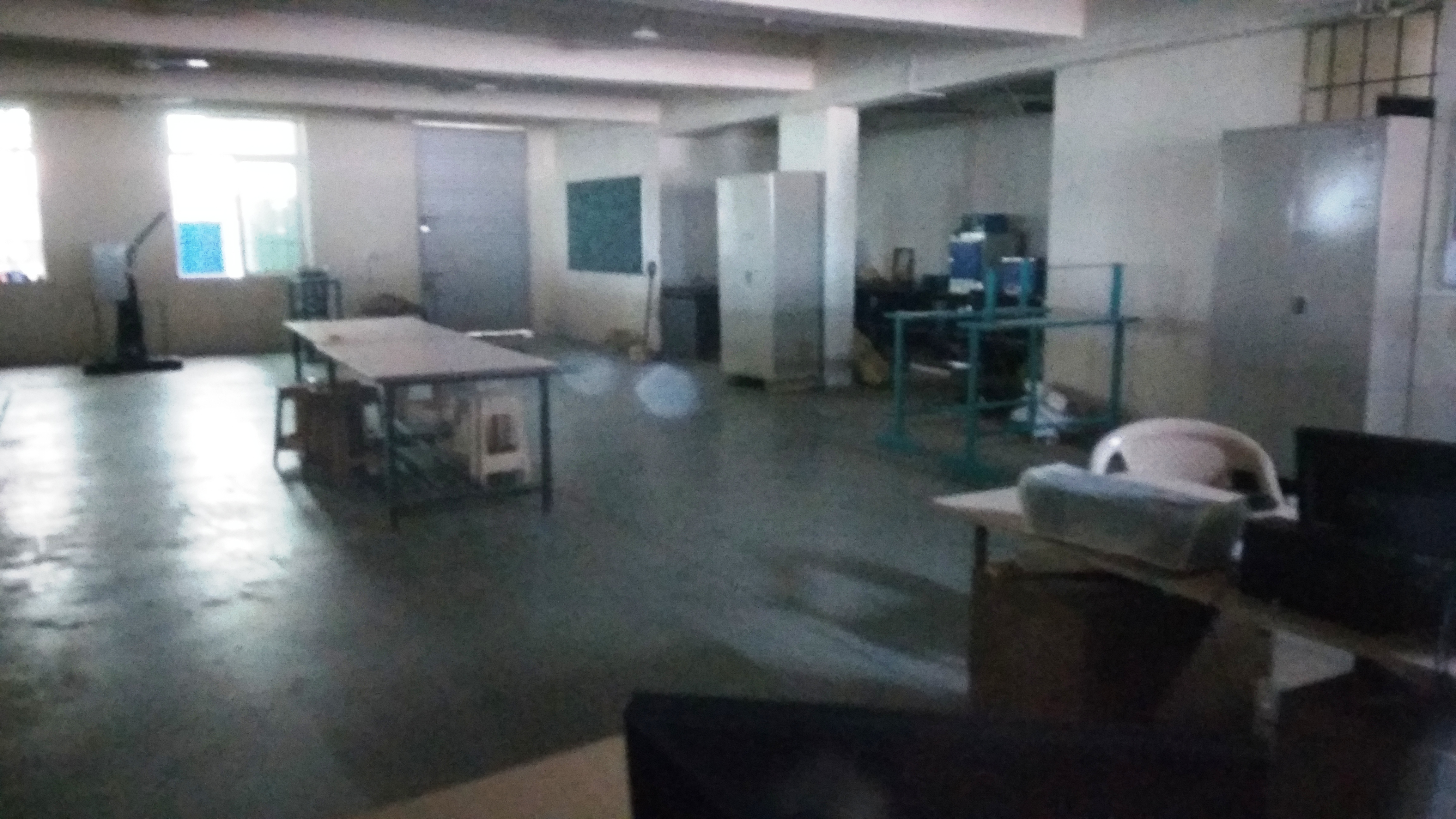 About Department
Civil Engineering is the oldest branch of engineering. Civil engineers plan, design and build homes, transport systems, irrigation systems, water supply systems, sanitary systems and smart cities. It is the branch of engineering which not only fulfil the basic need of shelter but it also very vital from environmental, social and health aspect of individual's life.
The Department of Civil Engineering established in 2012, with intake capacity of 60 under-graduate students, has made remarkable progress in few years. The department has well qualified and dedicated faculties with different areas of specialization. The faculties and students participate in several academics, co-curricular and extra-curricular activities as well. They are also engaged in research projects and frequently their research papers are published in national & international journals.
The department has well equipped laboratories and computational facilities. The department has been offering consultancy and testing services to Government, semi - Government, private sectors. To inculcate the social responsibility in students the department also actively involved in various Projects.
Vision
To divulge knowledge, skills and ethics needed in civil engineer globally to our students.
Mission
To produce civil engineers of high competence, technical skills to serve the society and nation.
To promote innovative and original thinking in the minds of potential under graduate students with the spirit of entrepreneurship.
To develop capacities of individuals in line of industry requirements through collaboration with Industry, Academia and Research organization.
Short Term Goals/ Objectives:
To make students more responsible towards academic compliances
To adopt and inculcate best practices to develop good academic culture
To develop a department with the state of art of academic
To develop a framework for performance excellence of students
To inculcate research aptitude and values with social responsibilities
Long Term Goals/ Objectives:
To establish a post graduation program in civil engineering.
To establish a research centre to fulfill the industrial needs through consultancy services.
To develop a framework for promotion of technological advancements to various sections of society for betterment of human being.
To develop establish department as the centre of excellence in civil engineering
Our Faculty Members
| Sr. No. | Name of Faculty | Designation |
| --- | --- | --- |
| 1 | | Assistant Professor & Head |
| 2 | | Assistant Professor |
| 3 | | Assistant Professor |
| 3 | | Assistant Professor |
| 4 | | Assistant Professor |
| 5 | Mr. Jitendra Shimpi | Adjunct Faculty |
| 6 | Mr. Satish Ranade | Adjunct Faculty |
| 7 | Mr. V. P Phadake | Adjunct Faculty |
| 8 | Mr. Ramchandra Hegonde | Adjunct Faculty |
Industrial Advisory Board
| Sr. No. | Name of Person | Designation | Name of Company | Designation in IAB |
| --- | --- | --- | --- | --- |
| 1 | Mr G A Bhilare | M D and Principal Designer | G A Bhilare Consultants Pvt Ltd | Chairman |
| 2 | Mr Sanjay Shirke | Director | Shivraj Constructions | Member |
| 3 | Mr Nitin Chougale | Director | Shivraj Constructions | Member |
| 4 | Mr Jitendra Paithankar | MD | Synergy Valuers Pvt Ltd | Member |
| 5 | Mr Sanjay Khandelwal | Proprietor | Lalita Construction | Member |
| 6 | Mr Anand Kadlag | Proprietor | AD Kadlag Construction | Member |
| 7 | Mr Abhijit Atre | Director | Gennxt Academy | Member |
| 8 | Mr Deepak Jawale | | Pandit Jawadekar and associates | Member |
| 9 | Mr Prashant Pokharkar | Director | Epitome consultancy services | Member |
| 10 | Mr Yusuf Inamdar | | J Kumar Infra Projects Ltd | Member |
| 11 | Mr Chandrashekhar | Managing Director | Chandrashekhar Infratech Pvt Ltd | Member |
| 12 | Mr Shailesh Salehittal | Founder Director | Shailesh Salehittal Architects | Member |
| 13 | Mr Bapu Gaikwad | Manager (Civil) | MAHA METRO, Pune | Member |
| 14 | Mr Yogiraj Lohokare | Director | Harikrupa Builders | Member |
| 15 | Prof. (Dr.) J. B. Sankpal | Principal | SRTTC | Member secretary |
| 16 | Prof N. N. Jadhav | Head of Department | Civil Engineering Department | IAB Coordinator |
| 17 | Prof Anup A. Kawathekar | TPO IIIC coordinator | SRTTC | Member |
| 18 | Prof. Shital B. Patil | Head of Department | DESH | Invitee |
| 19 | Prof. P. V. Bute | Head of Department | Mechanical Engineering Department | Invitee |
| 20 | Prof.(Mrs.) Anjali M. Dalvi | Head of Department | Computer Engineering Department | Invitee |
Industrial Visits conducted in A.Y. 2018-19
Sr.

No.

Date

Details of Expert

Topic

1

28/08/2018

Mr. DevanshuParmani, SACE, Pune

Softwares in Civil Engineering

2

11/09/2018

Mrs.Mrunal Joshi, PCMC, Pune

Automation in wastewater treatment

3

21/09/2018

Prof. V.R. Phadke, Pune

Motivational Speech

4

04/10/2018

Dr.S. S. Sawarkar, PCCOER, Pune

Stiffness method for analysis of indeterminate structures

5

04/10/2018

Prof. A.D. Shitole,

PCCOER, Pune

Design of retaining wall

6

08/10/2018

Dr.S. S. Sawarkar, PCCOER, Pune

Matrix Method

7

12/10/2018

Prof. A.D. Shitole,

PCCOER, Pune

Liquid retaining structure

8

16/10/2018

Prof. Mrs. M.V. Waghmare,AISSMSCOE, Pune

Vibration & Earthquake Analysis

9

08/03/19

Prof. ShraddhaKivade, RSCOE, Tathwade

Remote sensing and GIS

10

29/03/19

Prof. Ashwini R. Amashi,

DYPCOE, Ambi, Pune

Deep foundations

11

01/04/19

Prof. D. B. Nalawade,

VIIT, Pune

Dimensional analysis & boundary layer theory

12

03/04/19

Prof. G. S. Anaokar,

ZCOER, Narhe, Pune

Water and waste water analysis & its industrial applications

13

04/04/19

Dr.Vinaykumar C. H.,

CME, Pune

An overview of design of RCC structures
Research Publications
| Sr. No. | Name of Author | Title of Paper | Name of Journal | Year of publication | ISBN/ISSN number |
| --- | --- | --- | --- | --- | --- |
| 1 | Prof. A. S. Patekhede | Analysis of concrete Filled steel Tube column | Jornal of Emerging Technologies and innovative Research | 2018 | ISSN:2349-5162 |
| 2 | Prof. N. N. Jadhav | To check the Feasibility of Coconut Fiber and Polypropylene Fiber in Concrete | International Research Journal of Engineering and Technology (IRJET) | 2017 | 2395-0056; :2395-0072 |
| 3 | Prof. R. P. Gaikwad | Major Factors Contributing Growth of Water Hyacinth in Natural Water Bodies | International Journal of Engineering Research | 2017 | 2319-6890; 2347-5013 |
| 4 | Prof. R. P. Gaikwad | Evaluation of various methods of controlling Growth of water Hyacinth | International Journal of Research in Engineering, Science and Technologies | 2017 | 2395-6453 |
| 5 | Prof. R. P. Gaikwad | Study of the Phytoremediation Process for Removal of Contaminants from Waste Water | International Journal of Science & Research | 2017 | 2319-7064 |
| 6 | Prof. Chetan Yeole | Utilization of Industrial Polypropylene (PP) waste in Asphalt Binder for Flexible Pavements | International Research Journal of Engineering and Technology (IRJET) | 2017 | 2395-0056;395-0072 |
| 7 | Prof. Chetan Yeole | Industrial Polypropylene Waste used as Modified in Asphalt Binder for Flexible Pavements | International Journal of Engineering Research and Technology | 2017 | 2278-0181 |
| 8 | Prof. D. J. Khmakar | Landslide Hazard Management Maps for Settlements in Yelwandi River Basin, Pune, Maharashtra | International Journal of Modern Trends in Engineering and Research | 2016 | e-ISSN:2349-9745 |
| 9 | Prof. A. S. Patekhede | Effluent Removal Capacity of Water Hyacinth and Factors Affecting its Growth | International Journal of Research in Engineering Technology | 2016 | ISSN:2455-1341 |
| 10 | Prof. A. S. Patekhede | Partial Replacement of Cement with marble Powder and Silica Fume | International Journal of Research in Engineering Technology | 2016 | ISSN:2455-1341 |
| 11 | Prof. A. S. Patekhede | Analysis of Elevated Waster Storage Structure using Different Stagging System | International Journal of Research in Engineering and Technology | 2015 | e-ISSN: 2319-1163; p-ISSN:2321-7308 |
Student Initiatives
| Sr. No. | Year | Name of Award/ Medal | Name of Event | Sports/ Cultural/Technical | Name of Student |
| --- | --- | --- | --- | --- | --- |
| 1 | 2018-19 | Qualified GATE 2019 | GATE 2019 | TECHNICAL | Shelhalkar Mayur Sanjay |
| 2 | 2018-19 | Winner Kabbaddi | Moze Chashak- 19, Pune | SPORTS | Sawant Tejaskumar Vasant |
| 3 | 2018-19 | Passed NPTEL course exam- Introduction to remote sensing | NPTEL online examination 2019 | TECHNICAL | Shubham Dattatraya Khamkar |
| 4 | 2018-19 | Winner Kabbaddi | Moze Chashak- 19, Pune | SPORTS | Satpute Shubham Mohan |
| 5 | 2018-19 | Winner Kabbaddi | Moze Chashak- 19, Pune | SPORTS | Adkar Sagar Vijay |
| 6 | 2018-19 | Winner Kabbaddi | Moze Chashak- 19, Pune | SPORTS | Vikari Omkar Rohidas |
| 7 | 2018-19 | Winner Kabbaddi | Moze Chashak- 19, Pune | SPORTS | Dhakol Swapnil Kaluram |
| 8 | 2018-19 | Winner Kabbaddi | Moze Chashak- 19, Pune | SPORTS | Sawant Tejaskumar Vasant |
| 9 | 2017-18 | Participation (Paper Presentaion) | CIVIL Fest 2K17 | TECHNICAL | Shad Pansre |
| 10 | 2017-18 | Participation (Civil Quiz) | CIVIL Fest 2K17 | TECHNICAL | Shad Pansre |
| 11 | 2017-18 | Participation (Kabaddi) | MIT Summit 2017 | SPORTS | Satpute Shubham |
| 12 | 2017-18 | Participation (Kabaddi) | TSSM Chashak | SPORTS | Satpute Shubham |
| 13 | 2017-18 | Runner Up (Volleyball) | Runbhoomi | SPORTS | Ajay Tarade |
| 14 | 2017-18 | Participation (Volleyball) | MIT Summit 2017 | SPORTS | Ajay Tarade |
| 15 | 2016-17 | Participation (Civil Quiz ) | MITCOE | TECHNICAL | Shad Pansre |
| 16 | 2016-17 | Runner Up (Volleyball) | Satej Karandak 2016 | SPORTS | Ajay Tarade |
| 17 | 2016-17 | Winner (Kho-Kho) | Zonal Sports (State Level) | SPORTS | Suraj Gomase |
| 18 | 2016-17 | Winner (Kho-Kho) | Inter- Zonal Sports | SPORTS | Suraj Gomase |
| 19 | 2016-17 | winner | Seminar Competition-2016 SRTTC | TECHNICAL | Vaibhav Deshmukh |
| 20 | 2016-17 | Participation (TownShip Planning) | MITCOE TESLA | TECHNICAL | Shad Pansre |
| 21 | 2016-17 | Participation (Technified Solution) | MAEER Nirmitee 2016 | TECHNICAL | Shad Pansare |
| 22 | 2016-17 | Participation (Line Em out) | MAEER Nirmitee 2016 | TECHNICAL | Shad Pansre |
| 23 | 2016-17 | Participation (Tendering) | MAEER Nirmitee 2017 | TECHNICAL | Shad Pansre |
| 24 | 2016-17 | Participation ( Concreto) | MITCOE TESLA | TECHNICAL | Shad Pansre |
| 25 | 2016-17 | Participation (Quiz Competition) | Tantra Enigma 2016 | TECHNICAL | Ravi Kedari |
| 26 | 2016-17 | Participation (CAD-WAR) | Tantra Enigma 2016 | TECHNICAL | Ravi Kedari |
| 27 | 2016-17 | Participation (Bridge IT) | Tantra Enigma 2016 | TECHNICAL | Ravi Kedari |
| 28 | 2016-17 | winner (Mini project competition) | SRTTC | TECHNICAL | Datar Siddhesh |
| 29 | 2016-17 | Runner Up (cricket) | Intra College SRTTC | TECHNICAL | kunal Salunke |
| 30 | 2016-17 | Best Working Model (Project Exhibition) | Avishkar Project Exhibition, Zeal COER, Pune | TECHNICAL | kunal Salunke |
| 31 | 2016-17 | Runner Up (cricket) | Intra College SRTTC | SPORTS | Shubham Rakhunde |
| 32 | 2016-17 | Runner Up (cricket) | Intra College SRTTC | SPORTS | Mohammad Shoyeb |
| 33 | 2016-17 | Participation (cricket) | Shivaji Trophy , AISSMS Pune | SPORTS | Shubham khopade |
| 34 | 2016-17 | Runner Up (Carrom) | Intra College SRTTC | SPORTS | Shrutika Mahadik |
| 35 | 2016-17 | Participation (constrotect) | Indira COE | TECHNICAL | Shad Pansre |
| 36 | 2016-17 | participation (Model Making) | SRTTC | TECHNICAL | Patil Prafull |
| 37 | 2016-17 | Runner Up (cricket) | Intra College SRTTC | SPORTS | Suyesh Pasalkar |
| 38 | 2016-17 | participation (Model Making) | SRTTC | TECHNICAL | Sangolikar suresh |
| 39 | 2016-17 | Participation (Kabaddi) | MIT Summit 2016 | SPORTS | Satpute Shubham |
| 40 | 2016-17 | Participation (Project Compitition) | Eureka 16, DYCOE Ambi | TECHNICAL | Sandip Shirsat |
| 41 | 2016-17 | Participation (Basketball) | MIT Summit 2016 | SPORTS | Ajay Tarade |
| 42 | 2016-17 | Participation (Technical Quiz) | PCP Pune | TECHNICAL | Kuldeep Helmbhakar |
| 43 | 2016-17 | Participation (Kabaddi) | AISSMS Pune | SPORTS | Satpute Shubham |
| 44 | 2015-16 | Participation (Box Cricket) | TantraEngima 2016 | SPORTS | Kunal Vishwakarma |
| 45 | 2015-16 | 2nd Prize (CAD War) | TantraEngima 2016 | SPORTS | Kunal Vishwakarma |
Staff Development & Training
| Sr. No. | Year | Name of Faculty | Title of Professional Development Program | Date and Duration (from – to) |
| --- | --- | --- | --- | --- |
| 1 | 2018-19 | Ankush. S. Patekhede | ISTE Approved Two Days Workshop on "Effective Teaching Methodologies for Strength of Materials | 13th to 14th June 2019 |
| 2 | 2018-19 | Prof. R. P. Gaikwad | Workshop on "Standard test methods for analysis of waste water" | 15th June 2019 |
| 3 | 2018-19 | Prof. R. P. Gaikwad | Workshop on "Business opportunities in Environmental Engineering" | 1st to 2nd Feb 2019 |
| 4 | 2018-19 | Prof. A. S. Patekhede | Workshop on "Pre-stressing from theory to practice" | 7th to 8th Feb 2019 |
| 5 | 2018-19 | Prof. R. P. Gaikwad | NSS program officer state level workshop 2019 | 23rd to 24th Feb 2019 |
| 6 | 2018-19 | Prof. K. S. Tapaskar | NPTEL online course on 'Infrastructure planning and management' | Jan-Apr 19 |
| 7 | 2018-19 | Prof. N. N. Jadhav | NPTEL online course on 'Geo synthetics and reinforced soil structures' | Jan-Apr 19 |
| 8 | 2018-19 | Prof. D.J. Khamkar | NPTEL online course on 'Introduction to GIS and remote sensing' | Jan- Apr 19 |
| 9 | 2018-19 | Prof. A.S. Patekhede | NPTEL online course on 'Environmental remediation of contaminated sites' | Jan- Apr 19 |
| 10 | 2018-19 | Prof. R. P. Gaikwad | SWAYAM- Environment Natural resources and Sustainable Development | Jan-Apr 19 |
| 11 | 2018-19 | Prof. S.R. Ingle | NPTEL online course on 'Geotechnical Engineering' | Jan-Apr 19 |
| 12 | 2018-19 | Prof. C.R. Yeole | NPTEL online course on 'Infrastructure planning and management' | Jan-Apr 19 |
| 13 | 2018-19 | Prof. R. P. Gaikwad | Workshop on roll "NSS engineer in rural development" | 9th to 15th July 2018 |
| 14 | 2018-19 | Prof. Khamkar D. J. | International conference on Geotechnical Engineering, Telangana | 13th to 14th July 2018 |
| 15 | 2018-19 | Prof. A. S. Patekhede | Effective teaching methodology for FM-I | 20th to 21st Dec 2018 |
| 16 | 2017-18 | Prof. D. J. Khamkar | One day State Level Workshop on "Geotechnical Practical Practice" | 9th June 2017 |
| 17 | 2017-18 | Prof. Kishor Tapsaskar | "Training on ERP & its Module" | 29th July 2017 |
| 18 | 2017-18 | Prof. N. N. Jadhav | "Training on ERP & its Module" | 29th July 2017 |
| 19 | 2017-18 | Prof. D. J. Khamkar | "Training on ERP & its Module" | 29th July 2017 |
| 20 | 2017-18 | Prof. R. P. Gaikwad | "Training on ERP & its Module" | 29th July 2017 |
| 21 | 2017-18 | Prof. A. S. Patekhede | "Training on ERP & its Module" | 29th July 2017 |
| 22 | 2017-18 | Prof. Kishor Tapsaskar | "Training on Google Classroom" | 3rd August 2017 |
| 23 | 2017-18 | Prof. N. N. Jadhav | "Training on Google Classroom" | 3rd August 2017 |
| 24 | 2017-18 | Prof. D. J. Khamkar | "Training on Google Classroom" | 3rd August 2017 |
| 25 | 2017-18 | Prof. D. J. Khamkar | "Business Communication & e-mail etiquettes" | 29th July 2017 |
| 26 | 2017-18 | Prof. Chetan Yeole | "Business Communication & e-mail etiquettes" | 29th July 2017 |
| 27 | 2017-18 | Prof. R. P. Gaikwad | "Business Communication & e-mail etiquettes" | 29th July 2017 |
| 28 | 2016-17 | Prof. N. N. Jadhav | Two days National workshop on "Acceleration Process for Technical Institutions" | 15th to 16th Dec 2016 |
| 29 | 2016-17 | Prof. N. N. Jadhav | Course of Hydration, Porosity and Strength of Cementation Materials | 8 Week Course |
| 30 | 2016-17 | Prof. D. J. Khamkar | One day Symposium on "Image Processing and GIS Applications" | 21st October 2016 |
| 31 | 2016-17 | Prof. D. J. Khamkar | Course of Introduction to Research | 8 Weeks Course |
| 32 | 2016-17 | Prof. D. J. Khamkar | One day Workshop on NPTEL Awareness Workshop | 19th Jan 2017 |
| 33 | 2016-17 | Prof. Kishor Tapsaskar | "Induction Training Workshop" | 8th to 10th December 2016 |
| 34 | 2016-17 | Prof. N. N. Jadhav | "Induction Training Workshop" | 8th to 10th December 2016 |
| 35 | 2016-17 | Prof. D. J. Khamkar | "Induction Training Workshop" | 8th to 10th December 2016 |
| 36 | 2016-17 | Prof. A. S. Patekhede | "Induction Training Workshop" | 8th to 10th December 2016 |
| 37 | 2016-17 | Prof. R. P. Gaikwad | "Induction Training Workshop" | 8th to 10th December 2016 |
| 38 | 2015-16 | Prof. N. N. Jadhav | Two days workshop on "Dams and Hydraulic Structures" | 8th Dec 2015 to 9th Dec 2015 |
| 39 | 2015-16 | Prof. A. S. Patekhede | "One Week FDP on Theory and laboratory Experiments in Fluid Mechanics – 1" | 2nd Nov 2015 to 6th Nov 2015 |
| 40 | 2015-16 | Prof. A. S. Patekhede | One day Workshop on "Revision of S.E. Civil Engineering Syllabus – CBSE-2015 Pattern" | 4th April 2016 |
| 41 | 2015-16 | Prof. D.J.Khamkar | 5th International Conference on Recent Trends in Engineering and Technology(ICRTET'2016) | 28th to 30th April 2016 |
| 42 | 2015-16 | Prof. Kishor Tapsaskar | One day Workshop on "Emerging Trends in Civil Engineering" | 8th March 2016 |
| 43 | 2015-16 | Prof. N.N.Jadhav | One day Workshop on "Emerging Trends in Civil Engineering" | 8th March 2016 |
| 44 | 2015-16 | Prof. A.S.Patekhede | One day Workshop on "Emerging Trends in Civil Engineering" | 8th March 2016 |
| 45 | 2015-16 | Prof. Ranjeetsing Gaikwad | One day Workshop on "Emerging Trends in Civil Engineering" | 8th March 2016 |
| 46 | 2014-15 | Prof. Kishor Tapsaskar | One day workshop on 'TE Civil Syllabus Revision (Pattern 2012) | 9th June 2014 |
| 47 | 2014-15 | Prof. A.S.Patekhede | Industrial Training at L & T Construction, Panvel Complex. | 9th to 13th June 2014 |
| 48 | 2014-15 | Prof. A.S.Patekhede | Two day Faculty Development workshop on Soft Skills | 19th to 20th June 2014 |
| 49 | 2013-14 | Prof. A.S.Patekhede | Faculty development program on Leadership & Life Reinvention Strategies. | 6th to 7th September 2013 |
| 50 | 2013-14 | Prof. K. S. Tapaskar | Examination System | 26th February 2014 |
| 51 | 2012-13 | Prof. N.N.Jadhav | AICTE Approved Two Week Short Term Training program on Recent Innovations in Healthcare Technology | 18th to 29th June 2012 |
Guest Lectures organized in A.Y. 2018-19
Sr.

No.

Date

Details of Expert

Topic

Class

No. of Students Attended

1

24/07/2018

SD-III

Structural Design & Drawing

BE

09

2

24/07/2018

SD-I

Basics of Steel Structure & Tension Member

TE

23

3

28/08/2018

Mr. Devanshu Parmani

Software in Civil Engineering

TE

38

4

28/08/2018

Mr. Devanshu Parmani

Software in Civil Engineering

BE

19

5

11/09/2018

Mrs. Mrunal Joshi

Automation in wastewater treatment

BE

20

6

21/09/2018

Prof. V.R. Phadke

Motivational Speech

SE,TE,

BE

35

7

04/10/2018

Dr. Sawarkar

Stiffness method for analysis of indeterminate structure

TE

26

8

04/10/2018

Prof. A.D. Shitole

Design of retaining wall

BE

16

9

08/10/2018

Dr. Sawarkar

Matrix Method

TE

06

10

12/10/2018

Prof. A.D. Shitole

Liquid retaining structure

BE

08

11

16/10/2018

Mrs. M.V. Waghmare

Vibration & Earthquake Analysis

BE

13

12

08/03/19

Prof. Shraddha Kivade, RSCOE, Tathwade

Remote sensing and GIS

TE

32

13

29/03/19

Prof. Ashwini R. Amashi,

DYPCOE, Ambi, Pune

Deep foundations

TE

14

14

01/04/19

Prof. D. B. Nalawade,

VIIT, Pune

Dimensional analysis & boundary layer theory

SE

13

15

03/04/19

Prof. G. S. Anaokar, ZCOER, Narhe, Pune

Water and waste water analysis & its industrial applications

TE

28

16

04/04/19

Dr. Vinaykumar C. H.,

CME, Pune

An overview of design of RCC structures

TE

34